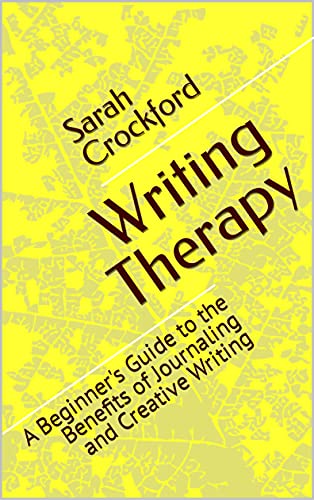 Writing Therapy
A Beginner's Guide to the Benefits of Journaling and Creative Writing
Available now on Amazon.co.uk as a paperback and eBook.
Click here to see details on the Amazon page.
Writing Therapy focuses on two things:
- the therapeutic benefits of journal writing
- the enjoyment of being creative
This book will guide you through different types of personal writing, as well as poetry and short stories, and even how to start novels and scripts.
Each chapter has five writing exercises to complete.
All of Sarah's groups have an emphasis on writing therapy, which covers both the enjoyment of being creative, and reflecting and incorporating personal thoughts and experiences in your writing.
Finding inspiration and getting creative
Where: The Oast Theatre (in the Lounge), Tonbridge, Kent.
When: Every Monday 1.30-3pm (except during school holidays).
Cost: £10 per class.
Covers: Fiction, non-fiction, memoir, poetry, personal reflection.
Quick summary: A friendly group for all stages of writer, including those who wish to be one! All types of writing encouraged . Classes consist of writing exercises, and the opportunity to share your work (this is optional).
Please bring a pen and notebook, or phone/ tablet/ laptop. You will also need to bring a completed registration form (see below) to your first class.
If you are interested in joining this group or have any questions, please email Sarah at crockford.writing@gmail.com
Where: Online, via Zoom
When: Wednesdays 10.30am - midday (term time)
Cost: £10 per class
Covers: Script writing
Quick summary: For beginners who want to learn how to write scripts - film, TV, radio and theatre; and those who have learnt the basics but want to be challenged to write more regularly.
Classes are broken into two zoom sessions, with a half hour in the middle for you to have a go at the day's writing challenge.
This is a small group. There are currently spaces available.
You will need to complete the registration form, and email it to Sarah before your first class (see below).
If you are interested in joining this group, or have any questions, please email Sarah at crockford.writing@gmail.com
Hildenborough Library Creative Writing Group
Where: Hildenborough Library
When: The second Thursday of each month, 10am - 11.30am.
Next meeting: Hopefully restarting later in 2021
Cost: No charge - this is to encourage you to visit your local library!
Quick summary: A chance to learn about writing flash fiction and short stories, and share your work with others. Sessions will include several writing exercises for you to complete.
Please bring a pen and a notebook.
If you're interested, please email Sarah (who will be running the group) at crockford.writing@gmail.com, or pop into Hildenborough library and speak to Michael Kent (keep an eye on the board out the front for opening days/ times).
Writing Information
For all you budding writers out there, I plan to produce a few 'quick guides' to get you started. The first two are below.
- The Hammond House International Literary Prize 2021 is open for submission, and closes in September. I will be part of the judging team for the scripts again this year. You can now enter theatre and radio scripts, but if you fancy having a go at writing a short film, and have never tried writing a script, you can read the 'quick guide to screenwriting basics'.
- If you enjoy writing short stories or non-fiction articles, and wondered how to get them into a magazine, have a look at the 'quick guide to writing for magazines'.
- I've filmed a couple of short screenplay masterclasses for Hammond House, they will be available to view soon on Hammond House Writers. They will guide you through a series of exercises, to help understand and practise the topics of:
- Character versus Plot
- Story Beats
Do you enjoy creative writing, and have penned poems, short stories, sketches or audio dramas? Want to hear them on the radio? BBC Upload is a fantastic opportunity for anybody with a bit of creative passion to get themselves on the airwaves.
Visit the BBC Upload site for more information.
BBC Radio Kent Upload
Radio Kent Upload is a great opportunity to get your work heard throughout the local area. It's on every weekday night between 9 and 10pm, hosted by the irrepressible Leo Ulph.