Sarah Crockford
After working with a variety of animals, Sarah set up her own pet behaviour and training business in 2011, offering one-to-one sessions, obedience classes for puppies and dogs, and phone consultations. She passed the Association of Pet Dog Trainers advanced instructors course, as well as various other short courses; and has a BSc (Hons) in Equine Management.
Having always been interested in writing, and with a passion for film and television (gaining an HNC in Television Production), Sarah finally had the confidence to start writing 'for real' in 2016. Since then she's won the 2018 Hammond House Literary Prize (screenplay category), and has self-published her rom-com 'Run or Love', and her book on dog behaviour 'Help! My Dog Has Issues'. She's also been enjoying writing sketches for Radio Kent.
Sarah now runs classes and workshops about Writing Therapy (currently via Zoom), to encourage others to learn about creative writing, and find out how it can help us overcome our difficulties. Having suffered with anxiety throughout her life, Sarah knows the benefits of writing, especially journaling. She's also writing a book about Writing Therapy - more details soon!
She's a member of the Hammond House Writers website, and is happy to answer questions about writing on the forum page. Sarah will be helping out with the judging of the short scripts for the 2021 Hammond House Literary Prize. The deadline is September, so you've still got time to write your film/ radio/ theatre script!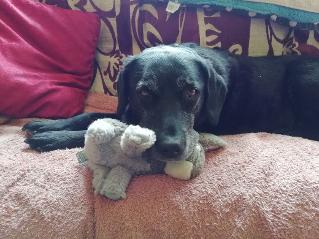 Bea
Although beginning to feel her age at 11 years old, Bea is still keen to learn new things, and helps Sarah with her training sessions.
From a line of working Labradors, Bea has taken part in a varied selection of activities in her youth including: gundog training, agility, flyball, trick training, obedience, heelwork to music and even a brief go at Treiball. Her highlight was auditioning for Britain's Got Talent as part of a team of 13 dogs and handlers (sadly they didn't make it to the next round!).
Now she helps Sarah by taking her for walks (giving her lots of thinking time for her writing) ... and snoozing on the sofa while she types.
News
- outdoor puppy class during august in Tonbridge, for pups aged 3-8 months. Tuesday mornings - contact Sarah for more info.
- new classes starting in Sept: puppy class, all-age dog class, writing therapy, and introduction to scriptwriting
- Sarah's book on Writing Therapy will be available soon!
- The latest video on Sarah's YouTube channel
(see right): "What is Balanced Dog Training?"
- To see other videos on her YouTube channel click here.