How to Create a Love Triangle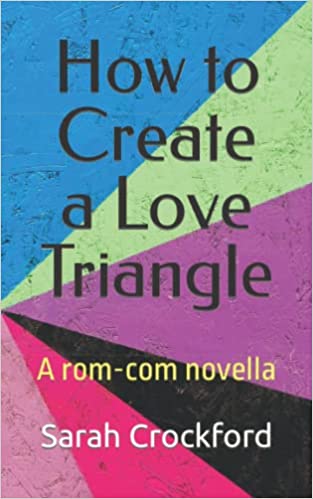 Available on Amazon.co.uk as a paperback and eBook.
Click here for the Amazon page.
How to Create a Love Triangle is a romantic comedy novella.
Mel has never settled on a job or a man, but she has big dreams.
When she starts her new role as a postie, and has a challenging conversation with the local film star Caroline Scarlett-Hughes, Mel starts writing to one of her fans. Not knowing she's just a postal worker, Adam writes back, imagining meeting up with Caroline and her amazing assistant.
When Mel and Adam finally meet, it's going to be awkward.
Meanwhile, Mel has become very good friends with a fellow worker, Ed, adding an extra complication in her search for love.
Reviews for How to Create a Love Triangle
"How to create a love triangle is a really easy read that keeps you gripped all the way through. I loved the story line and didn't want to stop reading as I needed to find out what was happening to each of the characters. Although I was happy to reach the end and know the story was complete, its the type of book that you feel almost sad to have finished, you just want to keep reading.
A great book which is well written. I look forward to the next one! Five stars."
Emma M, Kent
"This novella is a must-read for those on train or plane journeys - a quick read to pass the time. Fast moving, and a surprising ending!"
Annie, Kent
Trailer for How to Create a Love Triangle
Watch the short YouTube trailer to find out more about this rom-com novella!
How to Create a Love Triangle - on BBC Radio Kent
Sarah read an excerpt from Chapter 2 of How to Create a Love Triangle on Leo Ulph's Upload Show, on 21st November 2022.
How to Create a Love Triangle (excerpt)
Chapter 1
Mel's flat, Edgeton, England, March 17th, 11am

Surveying the boxes yet to be unpacked, Mel was grateful she'd found a flat with more space. Always on the move, this time she'd decided to pay a bit more rent, in the hope she'd want to hang around long enough to put some roots down. Whatever that meant. She liked being a free spirit, jumping from one job to the next, and one part of England to the next.
The only thing she hadn't done, like a lot of her friends, was hop from one country to the next. But, at 35, there was still plenty of time. It was just a shame she didn't have a significant other to share her experiences with. Her only companion was Merlin, a magnificent British Blue with glowing amber eyes, who'd already made himself at home on her bed, on the sofa, and on the chair by the coffee table. In fact, everywhere, except the new cat tree she'd bought him, even though she'd liberally sprinkled it with catnip.
Her new job at Royal Mail was proving more interesting than she'd imagined, and she'd been having fun learning the procedures and routes from the woman she was about to replace. It was a shame that not everyone at the sorting office was as welcoming. She'd quickly realised that the workplace bully, Warren (now her line manager), would need careful handling if she was going to stay in the job longer than a month. She'd been attempting a charm offensive over the last couple of days, and hoped it would make him accept her as part of the team.
Annoyingly, she'd not met any eligible bachelors there, and was hoping her move into the town centre would allow her to meet a few good-looking locals.
Adam's flat, Toronto, Canada, March 17th, 11am

Adam checked his watch as he opened the door. 'You're late,' he told his sister, Amelia. It was vitally important they left straight away: there was no way he was going to be late for the most important day in his life.
She blocked the door, and handed him an envelope. 'Open it, or we're not going.'
Grabbing it from her hand, Adam ripped the envelope open, nearly tearing the card inside.
'Careful!' she said.
Adam read out the words, pretending to be horrified by them: '"you're so old, you've past your peak, and will be forever alone?" Charming!' Amelia had doctored a photo of him, changing his short black hair into long grey locks, and adding an excessive amount of wrinkle lines by his mouth and eyes. 'Forty is not old!' he protested. 'I know you're a young and spritely thirty something, full of the joys of life, but I'm not…undesirable.' He put the card on the shelf by the coat hooks. 'Can we please go now?'
'Don't you want your gift?' She handed him a carrier bag.
'If it's anything like the card, probably not.' Adam pulled out the contents: a duvet set with a woman's face on it. A woman he knew very well, but had never met. He hugged his sister.
'A good gift then?' she said.
'I didn't even know they made these!'
'They don't. I mean, who'd want one? Except you of course. A friend of a friend makes bespoke designs, and agreed to do it. She thinks you're weird too.'
He unfolded it, took it to his bedroom, and laid it reverentially on the bed.
Amelia followed him, and leant on the doorframe, arms folded. 'You can be a bit creepy at times. And you're definitely not going to find love while you obsess over an up-herself film star.'
(c) Crockford 2022
***
This excerpt introduces Mel and Adam, and also the woman Adam is obsessed by - the film star Caroline Scarlett-Hughes. Find out more about Mel, Adam and Caroline, as well as Mel's new work colleague Ed, in How to Create a Love Triangle - available on Amazon as a paperback and eBook.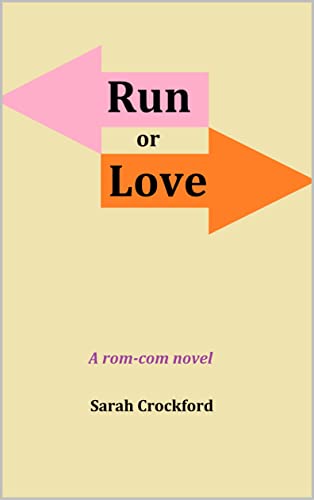 Available on Amazon.co.uk as a paperback and eBook.
Click here for the Amazon page.
Run or Love is a romantic comedy novel.
'Suzanna has spent her life trying really hard to be perfect, and to stay in control of her life.
But as her marriage falls apart, she meets her match in Freddie, who is looking for help to overcome PTSD and depression.
As they both struggle to learn what they truly want from life, romance begins to blossom, but it was never going to be easy.'
Scroll down to find excerpts from Run or Love...
Reviews for Run or Love
"I enjoyed the book very much. Full of twists and turns. You get drawn in by each of the characters. It is a must read."
MW Kent
"I read Sarah Crockford's novel 'Run or Love' over several days in winter lockdown. Sarah has a very readable and easy style of writing which made it perfect for picking up and resuming at regular intervals although I confess I binge-read the last 25 per cent as I wanted to know what happened! Sarah skilfully and gently weaves some valid mental health issues in a sensitive way into her writing. I very much enjoyed this book and wonder if there might be room for a sequel ..."
5 star Amazon review - Gardengirl
"I thoroughly enjoyed every page of Sarah's book. I found I felt really invested in finding out what happens to Freddie and Suzanna, the sign of a really good book in my opinion. Writing about the complexities they both have, and their struggles to over come their individual difficulties is inspired. A recommended read! I also bought a copy for my sister in Australia, here's what she had to say about it - "I thoroughly enjoyed this book, what a refreshing change from all the other 'romcom' novels to have characters with real depth and issues but with a lighthearted amusing storyline! It made me think, laugh and cry. The author has a real talent and I really hope she writes more of these." "
5 star Amazon review - DM
" I thoroughly enjoyed reading about the characters in this book and the journey they go on. Sarah sets the tone for the characters of Suzannah and Freddie and they are not immediately likeable which made me want to read on and find out more about their complexities. I did want to know the name of one of the characters for quite a while, (Freddie's Nan) and my patience was rewarded.
The adventures that Suzannah and Freddie go on are really exciting and Sarah's descriptions are fantastic. I read this novel in a few days and just wanted to get back to it each time I put it down. Very much looking forward to Sarah's next instalment. Well done and thank you for a lovely story."
5 star Amazon review - lovely baubles
Run or Love (excerpt)
Chapter 1
Suzanna leaned on the podium. Below her the hundreds of chairs would soon be filled by eager attendees, desperate to hear the one bit of advice that would save and enrich their lives. She visualised them all listening intently, and taking copious notes. Five hundred people needing her. Suzanna was wearing her 'power suit': trousers and matching jacket in executive grey, plain red shirt, crimson fingernails, diamanté watch and chunky necklace. Her hair, dyed a rich auburn and kept in long waves, was fixed in place with a whole can of spray. It was a calculated look that said 'I have everything, listen to me'. She glanced at the expensive leather folder, cleared her throat, and prepared to project to the back of the empty room.

The doors at the back rattled open, and a man in jumper and fraying shorts walked in, carrying a wad of publicity information. Spotting Suzanna on the stage, he hurried down the central aisle, getting his phone ready at the same time. 'Mind if I ask a couple of questions before your talk?' he said.

'I suppose,' replied Suzanna, already losing some of her composure. She fiddled with the water jug on the podium's shelf, attempting to fill a glass, but missed, creating a waterfall down the stand. To cover her embarrassment, she took a sip from the half-filled glass, only to tip it over her chin, the water splashing onto her shirt. She cursed under her breath. Not for the first time, Suzanna wondered why everything always seemed to go wrong for her. But not wanting the stranger to spot any signs of weakness, she locked his eyes in a winning stare. A masterclass in eye contact. She smiled broadly, repeating the action she'd practiced hundreds of times in front of the bathroom mirror.

The man took a small step backwards, and shuffled through his paperwork, leaving an awkward silence.

'Well?' Suzanna asked. It came out like a command.

'Right, er, this talk is all about confidence, and you say in your book that anyone can learn it. Is that really true?' He held the phone towards her.

That question put her in a dilemma. Although she was practicing in the main room, imagining what it would be like to have a global following (it was only a matter of time she told herself), she wasn't actually the keynote speaker. But he hadn't addressed her by name, and had merely asked for her opinion as an expert. She'd written part of a book yet to be published, and thought that might count. The chance to be interviewed and taken seriously was irresistible.

'Yes,' Suzanna forged ahead, wiping her wet shirt with a tissue, 'confidence is a skill anyone can learn.'

'What are your top tips?'

This was her moment. The chance to prove she knew her stuff, to silence her doubters. 'The first…is to decide what you want to achieve.' Bits of tissue started to flake off on her shirt, leaving behind little spots of white. 'Then you need to keep thinking positive until you get it.' She tried to brush off the tissue with her hand. 'Always remembering to…'

The doors at the back rattled again. Annoyed at another intrusion, Suzanna yelled 'it's not started yet,' in her most confident voice, congratulating herself at how forceful she sounded. Then she swore. The lady walking towards the stage was Gina Mathews, world renowned therapist, public speaker, and author of 'Change Your Brain - Ditch Your Pain'.
(c) Crockford 2021
***
Find out more about Suzanna, and her rival Gina, in the rest of chapter 1, which also introduces Rupert, Suzanna's husband. Chapter 2 is the beginning of Freddie's story. Read more now in the 'Look Inside' function on the Run or Love Amazon page (click the link above).
Run or Love - on BBC Radio Kent
A recording of Sarah reading chapter 8 of Run or Love was aired over two nights on the 8th and 9th of November 2021 on BBC Radio Kent, on the Upload show.
Run or Love - excerpt Chapter 21
Chapters 21 and 22
This is a little YouTube video of me reading a section of Run or Love (from chapters 21 and 22).
I'm often asked how I combine writing and my work as a pet behaviourist...and this is one way: animals always find their way into my writing. In this case, it's horses.
Freddie and Suzanna have very different reactions to their new challenge...
Run or Love - Q and A
Why did you write Run or Love?
I'd seen a competition for the opening chapter of a novel, without needing to have the whole book written. I thought that would be a good place to start, as up to then I'd been learning a lot about 'how to' write, without doing a lot about it! It was a great challenge, and although I didn't get on the shortlist, I loved the ideas I'd come up with, and continued to write. That was back in 2016.
Did you find it an easy process?
I found the length of time to write it, and the editing, difficult at times. It seemed to take forever, and trying to hold the whole thing in my mind at once...I much prefer writing shorter pieces. That's why Run or Love is broken into five parts. But I'm really glad I got to the end. I wouldn't have been able to write it, or have the motivation for finishing, if it hadn't been for Charlie Bell's writing group. We were all working on novels, and we helped each other to keep going! But being able to write about things that are very personal to me has been a healing experience, and has made me realise how powerful 'writing therapy' can be.
How did you create the characters of Suzanna and Freddie?
They are really parts of me. I've suffered with anxiety throughout my life, and have been through countless panic attacks, and have also found myself with mild depression a few times. I've always had a nagging thought that since I've had a great childhood, with loving family and friends, that I shouldn't have cause to feel this way. So when I created Suzanna and Freddie, I gave them very clear reasons why they have developed their anxieties and foibles. Freddie has seen some terrible things, but that isn't the only trauma he's had to deal with. And Suzanna, well, her reasons become a little clearer as the novel progresses, but she's a lot more resistant to change than Freddie, and is very good at covering up her difficulties. Mental health issues are talked about a lot more now, but people's pain is often hidden, and sometimes we forget that we're all struggling a little bit. Although this is primarily a rom-com, I didn't want to shy away from these things.
There are a lot of animals in Run or Love, was that always the plan?
It wasn't in the original plan - they found their way into the story! I feel that animals are such great teachers...and great levellers. No matter who you are, what you've been through, or what you think of yourself, a dog or horse or cat is just going to see you as you are. That's not always an easy experience to go through. I've learnt a lot about animal behaviour over the years, and spend several of those studying natural horsemanship. The boot-camp that Suzanna and Freddie go on seemed the perfect opportunity to include a bit of equine teaching. And after I'd written that scene, I realised Freddie was going to want to learn more, which is why later in the book the story moves to Texas.
Is there going to be another book featuring Suzanna and Freddie?
Possibly! But I have a few other projects to complete first, including a rom-com novella.
What is your advice to anyone wanting to write a novel?
Start one! Do a bit of planning first though, so you know you have enough story, and that you'll be happy to write about your characters for a prolonged period of time. Then just get writing, and don't stop until the end. Then you can do your editing. If you do too much editing in the early stages, you might lose your motivation to complete it. And although writing a novel can be hard work, try to enjoy it if you can!
If you have a question for Sarah about Run or Love, please email her at crockford.writing@gmail com