BBC Radio Kent Upload
Radio Kent Upload is a great opportunity to get your work heard throughout the local area. It's on every weekday night between 9 and 10pm, hosted by the irrepressible Leo Ulph.
I've had the privilege of nine of my sketches (specially written for Upload) being featured, and was even interviewed by Leo Ulph on the 21st October 2020, explaining how I combine writing with my work as a pet behaviourist.
Most of these sketches are available to listen to on my YouTube channel - click on the titles to hear them.
A stressed dog trainer tries to keep control of a busy class. (Aired: Mon 28th Sept 2020)
A riding instructor, more used to teaching children, attempts to run a corporate team-building event. (Aired: Wed 21st Oct 2020)
Felicity's One Woman Playhouse presents 'Ride 'em Cowboy':
A fun pastiche of a Western plot, performed in under 5 mins. (Aired: Tues 1st Dec 2020)
A fun sketch about a theatre producer trying to assist in the creation of an office panto. (Aired: Thurs 17th Dec 2020)
Spiders and New Year's Resolutions:
Part 1 of the 'Eric and Maureen Monologues'. A short piece of humorous reflection, in the style of an Alan Bennett monologue. (Aired: Tues 12th Jan 2021)
A frazzled mindfulness coach tries her best to cope with the difficulties of running classes on Zoom. (Aired: Mon 8th Feb 2021)
The Further Tales of Eric and Maureen:
Part 2 of the 'Eric and Maureen Monologues'. A follow up to 'Spiders and New Year's Resolutions. (Aired: Thurs 18th March 2021)
Part 3 of the 'Eric and Maureen Monologues'. The third...and possibly final... humorous monologue from the unnamed narrator. (Aired: Tues 22nd June 2021)
Felicity's One Woman Playhouse Presents 'Deadly Invasion':
One voice, four characters, and a silly plot. This one is a sci-fi pastiche! (Aired: Thurs 7th Oct 2021)
Pathé Nativity:
A fun sketch about a school nativity play, in the style of the old Pathé newsreels. (Aired: Wed 8th Oct 2021)
Smidgen the Pigeon:
A humorous poem! (Aired: Wed 26th Jan 2022)
Cat Rules
A fun feline sketch about how cats rule their owners lives. (Aired: Thurs 17th March 2022)
Burning Love
"Mercy's deadly obsessions are born from a challenging youth, and will end in flames."
Burning Love is short story by Sarah Crockford, that has been produced as a podcast by Hawk and Cleaver, who specialize in horror, science fiction and thriller stories. Click this link to listen to Burning Love, or find out more on the Hawk and Cleaver website.
Please be aware that 'Burning Love' is not really for family listening, or for those with a nervous disposition...
Puzzle From Peru
" After receiving a mysterious parcel from her archaeologist friend, Candy is forced into leaving her safe, quiet life behind."
Now available to listen to at Hawk and Cleaver. However, as this is an exclusive story for members, you will have to sign up first (there is a cost involved). More details can be found at https://www.patreon.com/hawkandcleaver. Puzzle from Peru was uploaded on Aug 18th 2021. To listen to other (free) audio dramas on Hawk and Cleaver click here.
Caged
This short story is included in the anthology of the 2020 Hammond House International Literary Prize. 'Survival' was the theme for the 2020 competition, and includes winners, runners and short-listed entries for the short story category. There is also an anthology available for the poetry category.
I was invited to submit a short story for inclusion as I was part of the judging panel for the screenplay category.
Caged is the story of a woman trapped in her own home, with just her cat for company. Then one day she meets someone who encourages her to take a step outside.
Survival is available on the Hammond House Publishing website, or at Amazon.co.uk.
"From terrifying post-apocalyptic fantasies, to rousing contemporary fiction, SURVIVAL gathers some of the best in modern writing from around the world.
Thrilling, daring, funny and moving, this impressive body of award-winning work explores what it means to survive in this increasingly volatile world, telling the human stories behind the headlines: the dramas and struggles of every day life."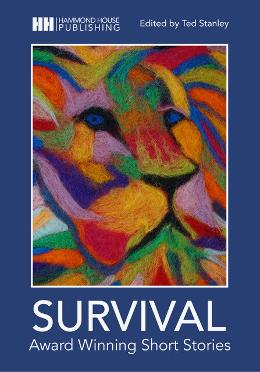 Welcome to Wondershire
Sarah had the privilege of being part of the writing mentor team, working with the talented youth group of the Heckington Players. All conducted on Zoom, the young actors invented new characters for a fairy-tale land, and wrote their own scripts.
It was filmed in July, and will be available on YouTube soon!
The Bargain
This is a short film written by Sarah Crockford; winner of the 2018 Hammond House International Literary Prize (screenplay category). It was filmed by Hammond House in January 2020, and premiered at their Literary Festival at the University Centre Grimsby on February 5th.
The teaser trailer can be viewed on YouTube.*
The Bargain is a horror/ psychological thriller - "Life is falling apart for Kevin, and he's suddenly unable to talk his way out of trouble. With his secrets revealed, he loses everything. A mysterious woman offers him refuge, but he's soon in mortal danger, and prepared to do anything to stay alive."
*(You can click the link above. Or, if you're searching for it within YouTube, please select the one posted by Billboard TV, as there are other 'The Bargain' trailers on there!)