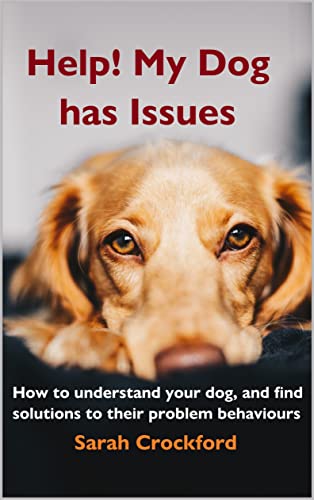 Help! My Dog has Issues
How to understand your dog, and find solutions to their problem behaviours
Available from Amazon.co.uk as a paperback or eBook.
Click here to see see details on Amazon.
Help! My Dog Has Issues is your guide to canine psychology, and dog-owner psychology (since we make up half of the team). This book covers everything from your dog's genetic ancestry, to the common causes of 'bad' behaviour. There's a ten-point plan to work through, to help you create solutions that are right for you and your dog.
This second edition of Help! My Dog Has Issues, has three new sections which focus on complex and distressing problems: grumpiness towards other dogs/ people/ animals etc when on a walk; separation anxiety; and toilet-training issues.
Praise for the first edition:
"This is a gem of a book for anyone with a dog, or even thinking about getting a dog. Sensitively written, Sarah really helps you see the world from your dogs point of view as well as your own, making understanding their behaviour so much easier, shedding light on problems which otherwise can be difficult to figure out. Great practical advice on finding a way forward for you and your dog. Highly recommended!"
D.Mannerings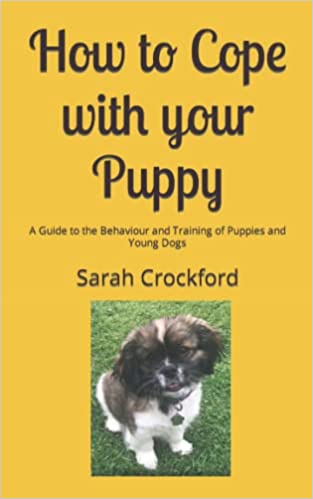 How to Cope with your Puppy
A Guide to the Behaviour and Training of Puppies and Young Dogs
Available as a paperback and Kindle ebook, via Amazon.co.uk.
Click this link to see details on Amazon.
Welcoming a puppy into our life is exciting, but the reality of living with a puppy or young dog can prove a little stressful at times.
This book will help you avoid some common pitfalls, and offers advice about what to do when things go wrong.
This second edition includes a question and answer section covering puppy problems - from biting during playtime, and running off on walks, to weeing in the house, and eating their own poo...plus many more issues!
Sarah's YouTube videos
What is Balanced Dog Training?
A short introduction to the three things you need to know when training a dog.
Making the choice to change...why there are no 'quick fixes' in dog training.
Although it can be frustrating and unsettling to realise that we have to change ourselves before we can change our dogs, it's the only way to achieve long-lasting results. This is a few of my thoughts on the subject.
A Canine Connection: finding the strength to help them.
Living with a dog isn't always easy, especially if they have issues; but if we love our dogs, we will want to help them, even if that's hard for us. This is a few of my thoughts about it.
Although it's fairly straightforward to teach a dog to sit or lie down on cue, what if you want to do more advanced training with them? Teaching dogs to be creative helps them learn to try new things.
Teaching an Old Dog New Tricks: Ring the Bell
Bea might be 12, but she still likes to learn. This short video will show you the 3 steps needed to teach your dog to do it too!
Teaching an Old Dog New Tricks: Walk around the cone
Bea's latest trick involves learning to walk around a cone. Watch her try it, and then train your dog to do it too!
Quick Guides to Dog Training
Sarah has written these as a companion to 'Help! My Dog Has Issues' to help you train your dog, and also to help you make a plan for improving their behaviour. They work best once you have a basic understanding of what upsets and motivates dogs, and how our behaviour can sometimes get in the way.